Suanne Kimmel began her professional career as a Massage Therapist in 1990. Her love of facial rejuvenation was born with a facial massage class in 1994. After 13 years in private practice in Connecticut, she moved to sunny Florida. Suanne is a Florida licensed Skin Care Specialist in South Daytona, FL.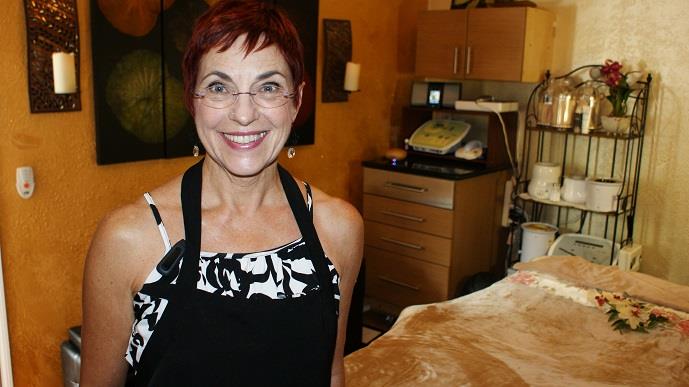 Suanne studied Advanced Esthetics at Atelier Esthetique, International Dermal Institute and International Academy. She has completed over 35 Continuing Education Seminars including The Vodder Method and Upledger Lymphatic Drainage. Her background and experience in Massage and Lymphatic Drainage dramatically enhances the relaxation and effectiveness of her facial treatments.
She is truly passionate about her work and stays well informed by attending post-graduate training courses, trade shows, and membership affiliations such as the Associated Skincare Professionals (ASCP), Florida Esthetics Association and the National Coalition of Estheticians (NCEA).
Suanne specializes in dramatic results with no discomfort or downtime. Treatments include classic facials with steam & massage, Skin Sheek Treatments, Microcurrent, Rezenerate, PCA Peels, and Micro Photo Facial Acne treatments. Suanne's state-of-the-art Celluma LED light panel with infra-red help to clear the signs and symptoms of acne, firming & toning, dark spots, redness and wrinkle reduction. Infra-red is fantastic for treating pain such as muscular overuse, bruises or migraines.
Tama Blue Onyx Microcurrent (Natural Facelift) and Rezenerate (results similar to Microneedling without the needles, pain or downtime), were recently added to complement Suanne's treatments for optimal results. She offers a variety of facial treatments and light peels that provide excellent results for acne, acne scars, aging skin, sun damaged skin and rosacea and sensitive skin. All facials and treatments are customized to target your individual skin care needs.
Suanne's Customized Enzyme Facials feature the Skin Script RX line of botanical skin care. Skin Script RX is natural, yet clinical skin care designed for anti-aging, hyperpigmentation, melasma, sun damage, teen and adult acne, rosacea. Antioxidants, enzymes and natural brighteners are the basis of this skin care line to achieve remarkable results. This botanical line features professional natural fruit enzymes, masks, and gentle chemical peels. The Enzymes and masks smell good enough to eat! Add-on a Microcurrent Eye Eye Lift or Kissable Lips for instant results. Healthy skin looks younger!